In Istanbul you will have the opportunity tovisit glorious and magnificent palaces, built in different periods of history, in distinctive styles, like the Dolmabahce, Topkapi, Beylerbeyi and Ciragan Palaces.
Enjoy tourist and historical sites, such as the church of Saint Sophia and Chora (Kariye), the famous Blue Mosque and Suleymaniye Mosque, the Underground Cistern and the Archeological Museum.

Feel the magic in the ancient religious ritual of the Dervish. In the Grand Bazaar you can shop local accesible prices instead of tourists prices !!
You will get to know special places where Turks usually go and tourists don't get a chance to see !!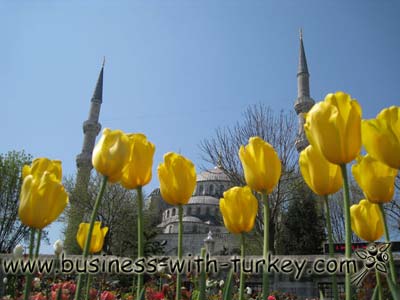 Because we do love Istanbul and we wanted to be able to show this city in cyberspace we made this site with a Internet cyber tour in Istanbul.
Even without beeing in Istanbul you can get to know this beautifull city through a virtual tour. If you already have been in Istanbul, enjoy your cyber visit.
Thank you for your visit !
We will be pleased if you write on our
Guest Book !

Cheers from Istanbul !
Do you need a special and unique gift ? Did you forget to buy something at the Grand Bazaar ? Visit SHOP1000 ! Different types of bags, backpacks, telephone books and shoes, all made with kilim (Turkish rug) and leather.
Do you want to make a search at our site? Search bellow and have a look also at our
Alphabetic Index page
Have a look at our BLOG with interesting articles about Turkey and Turkish culture:
Istanbul - European Capital of Culture 2010
Did you know that Troy is located in Turkey?
Tarkan idol of Turkish pop music
Turkish Women, a brief historical survey
Famous Belly Dancers in Turkey


Web Page Designer
Copyright © 1995-2008 Hitit Web Design.
All rights reserved.