Chicken Breast Pudding
Turkish Cuisine
Tavuk Gogsu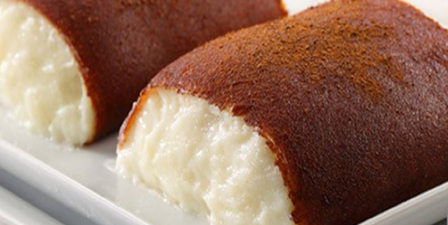 Instructions - 6 servings
Cook chicken breast in water to cover, over low heat in a saucepan 10-15 minutes or until barely tender.
Drain and bone tear breast into very thin hair fine fibers. Set aside; chill. Cover rice with warm water for 2 hours.
Drain and place into a food processor container. Process until well ground. Mix ground rice with milk in a saucepan blending well. Cook over low heat for 5 minutes or until thickened, stirring constantly.
Stir in chicken breast-torn into fibers-mixing thoroughly. Cook for 5 minutes stirring gently and constantly. Reduce heat.
Add sugar mixing well. Cook over very low heat for 1 minute or until sugar is dissolved.
Remove from heat. Pour into individual dessert bows. Cool and sprinkle with Cinnamon. Serve chilled.
Ingredients

Measure

Amount

Chicken breast
Cracked rice
Water
Milk
Sugar
Cinnamon
½ medium size
¾ cup
¼ cup
4 cups
1 1/5 cups
1 teaspoon

100 g (cooked)
150 g
60 ml
1 lt
240 g
2 g
Regional characteristics
A specialty from Istanbul. Served with ice cream in summer.
Nutritive value
( Approx. per serving note: recipe for 6 servings)
Item

Measure

Energy
Protein
Fat
Carbohydrate
Calcium
Iron
Phosphorus
Zinc
Sodium
Vitamin A
Thiamin B1
Riboflavin B2
Niacin
Vitamin C
Cholesterol

368 cal
10.0 g
5.5 g
69.8 g
215 mg
0.67 mg
204 mg
1 mg
96 mg
364 iu
0.09 mg
0.31 mg
1.59 mg
2 mg
31 mg
Biography
Samples of Turkish Cuisine, Ministry of Culture Publications of General Directorate of Folk Cultures Research and Development.

Turkish Cuisine:
Turkish Cuisine
Delicious Turkish Recepies
Recommended Books about Turkish Cuisine
Turkish Diet Habits
Virtual Spice Bazaar
Virtual Spice Bazar
Day & Night life in Istanbul:
Night Life in Istanbul
Tea Gardens in Istanbul
Restaurants in Istanbul

Turkish Drinks:
Ayran, Boza and Sahlep
Sahlep from Turkey
Turkish Tea
Apple Tea from Turkey
Pomegranade Tea from Turkey
Black Tea from Turkey
Turkish Coffee
Turkish Coffee from Turkey
Coffee Grinder, Special Pot to make Turkish Coffee
Special Porcelain Coffee Cup from Turkey
Articles about coffee, tea and narguile:
Coffee, Tea and Narguile
Coffee, a Turkish Tradition
Tea Gardens in Istanbul
Making Turkish Black Tea like the Turks
How to prepare Turkish Coffee and how to Read the Coffee Grounds