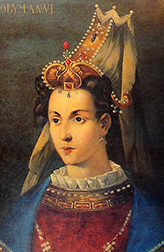 Although the leadership of the Ottoman Empire was dominated by men, at least one woman in the early period of the Empire succeeded in making her way into the sultan's inner circle, and successfully influenced the future of the sultanate. This woman was Roxelana.

Suleyman's wife was known as Roxelana in Europe and Rossa in Istanbul. She was a Ukranian slave who was likely captured in the Caucasus and taken to the slave market in Istanbul, where she was purchased for the sultan's harem. Suleyman's harem, like that of most Ottoman rulers already featured four chief concubines - one which would bear the sultan's heir - and about 300 other concubines. Like Roxelana most women in a sultan's harem were slaves that were given, purchased, or captured in war by the Ottomans. Additionally, almost all of them were Christians.
Her name, said to have been derived from the word "Rus", applied to both Ukrainians and Russians (Muscovites) of the 16th century. Slavic historians locate her original home at the town of Rohatyn in what is now western Ukraine, but was
part of Poland in the 16th century. Ukrainians were in those days known as "Ruthenians", also derived from the same root "Rus".