Restaurants in Istanbul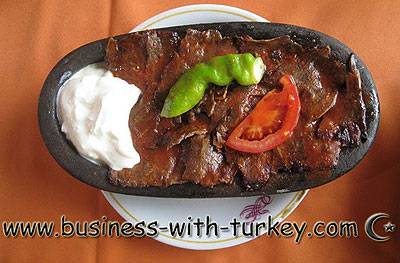 Dinning out in Istanbul is a delight.
Meals in traditional Turkish restaurants start with a large selection of cold starters called "meze". You can choose between fresh vegetables in olive oil, white cheese, salads, sweet melon, yogurt with herbs and many others. Hot appetizers include: cheese rolls, pastry, soups. The waiter will show you all Turkish appetizers from a large tray and you catch whatever you want.

As main dish you can choose grilled fish, meat kebabs or the famous "Doner Kebab" (dish named through Alexander the great - lamb meat with yogurt and tomato sauce).
Deserts are delicious: pastry ones or baklava type (flour dipped in rich syrup), fresh fruits or milk pudding. To finish your dinner we recommend you to drink a Turkish coffee. "Afiyet Olsun" means "Bon Appetite".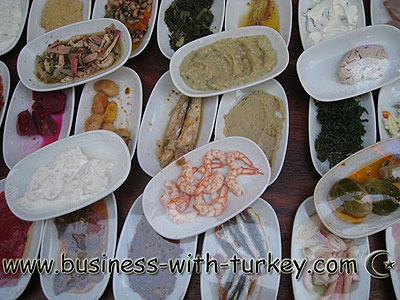 Here are some recommended Turkish restaurants:
Tugra Restaurant - Turkish Restaurant serving ottoman styled cuisine a la carte. Live traditional music. Located at the Ciragan Palace. Reservations required. Opened just for dinner. Address. Ciragan Palace - Tel. 2583377 - $$$
Sark Sofrasi Restaurant - Turkish and ottoman cuisine with a wide variety of appetizers and main dishes. Reservations required. Opened just for dinner. Located at the 5 Star Swissotel The Bosphorus Tel. 2590101 - $$$
Bodrum Restaurant - Fish as specialties. Nice view of the Bosphorus. On weekends you can see a hand made exhibition at Ortakoy. Dinner & Lunch. Address. Just tell the taxi driver to get you into Ortakoy district - $$
Haci Baba Restaurant - Delicious Turkish food with a wide selection traditional and ottoman Turkish cuisine. Located in the main commercial street of Istanbul. Dinner & Lunch. Address. Istikal Cad. 49 Beyoglu Tel. 2441886- $$
Gelik - Meat Restaurant - They have their own bakery, special olive oil, different types of meat kebabs. Try "doner kebap". Please ask your reception for the distance between your hotel and the restaurant. Dinner & Lunch. Address. Sariyolu Mobil Karsisi Atakoy Tel. 5607282 - $$
Kumkapi Restaurants - There is a street full with restaurants you should visit even if you do not want to have dinner. The place is called Kumkapi. There is a variety of fish restaurants, live music and a lot of people. Please ask the price in advance before eating. Opened just for dinner. Address. Just tell the taxi driver you would like to go to Kumkapi - $$
Haci Abdullah Restaurant - Very old Turkish Restaurant. Home style Turkish food. No alcohol. Dinner & Lunch. Address. Sakizaga Cad.17 Beyoglu - Tel. 2398561 - $
$ Modest $$ Medium $$$ Expensive
Tea Gardens | Night life | Restaurants