Goreme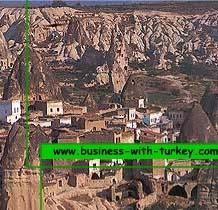 The tuff of the region was not only utilized as physical shelters, but also spiritual . The valley of Goreme is known for its proliferation of churches carved into the rocks. Built between the 7th and 13th century, at its height Goreme is said to have had a church for every day of the year. It is not just the use of the stone that is so fascinating, but the interior design. Vividly preserved during the ensuing centuries, the original frescoes celebrate the beliefs of the early Christians. The only light that permeates the churches is the natural light that is filtered through the entrance. From a far looking you will only notice something like shells of vacant windows at the hillside. Most of the churches are quite small. The dominant layout of the interior chambers is based on a cruciform design. The most famous churches are located inside the "open-air museum" of Goreme, they are :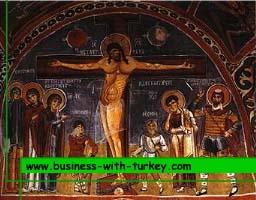 Elmali: This church is dated to the 11th century. The yellow ochre of the region dominates the frescoes that decorate the vaulted, cross shaped interior. As with many other Cappadocia churches, peeling paint often reveals the red as the Christian symbols of the iconoclastic period. The themes of the frescoes mainly relate to the Christ cycle. Elma in Turkish means apple.
Carikli: Named after the carik-shoe marks on the floor, this church can only be reached through an open stair case. Although the narthex is in ruins, the frescoes themselves are not so damaged and mainly deal with the Christ cycle. The portrait of the four evangelists inscribing the gospels in the surrounding and the center dome where Christ is to be seen is a detail to admire.
Yilanli: Thought to originally be a funeral chapel, this 11th century church's fame lies not only in the quality of its frescoes, but in its content. The slaying of a dragon (from which the church takes its name) by St. George and St. Theodore on horseback, decorates the vault over the apse. Emperor Constantine (306-337 A.D.) and his mother Helena are depicted to the saints right next to them.