Cappadocia and Central Anatolia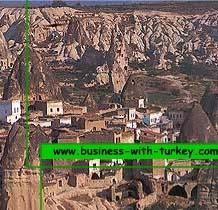 Traveling inland Turkey, away from the sparkling coast in direction to the country's central plateau, is a voyage of supreme mystery. It is a journey back to the earliest civilizations known to human being. To wander through a landscape where nature seems to have run wild, where wind and rain have combined over the centuries to create a frenzy of shapes with the beauty and complexity of a great work of art. Nature and human being: these are the twin elements of Turkey's interior.
The majestic results of this enterprise appears gloriously in a perfect triangle formed by Ankara, the nation's young capital chosen at the end of the Ottoman Empire now representing the progressive side of Anatolia; Konya, site of some of the earliest Neolithic remains ever discovered, a true legacy from the past and one of the cradles of civilization; and the Goreme Valley, land of the surrealism and religion.
Cappadocia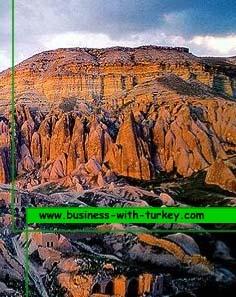 The Vulcan Erciyes and Hasan erupted and formed a soil with very malleable stones yet sturdy in its nature. As a result, intricate carvings of nature and man have been recorded on this seemingly desolate land for centuries. The winding landscape is decorated with a maze of cones, slopes and chimneys at every twist and turn. Before the Persian invasion, Cappadocia extended from the Black Sea in the north, to the Taurus Mountains in the south with the Euphrates and Tatta Rivers bordering it to the east and west. Now, considerably condensed, Cappadocia is enclosed by the Halys River to the north, the Euphrates to the east and the Seyhan and Ceyhan rivers to the south.