Manuel and Manola in Istanbul
Your message reminds me something that was on my mind since a long time: writing you to tell you that I and my wife have enjoyed a lot our stay in Istanbul, thanks to you, the organizer and to the guide - we must say he behaved himself very good ! We were impressed by his professionalism, his knowledge of history and his amiability... he is also a very good photographer, as you can see here.. We would have stayed more, maybe for a coffee - or any other excuse I might say - to learn more about the social, cultural and religious aspects of Turkey.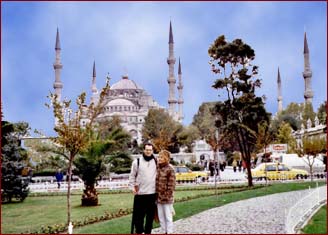 It is incredible, and also impressive: Saint Sofia, the Blue Mosque, Topkapi and Dolmabahce Palace, I still have nice memories of our stay and also I remember the bus that took us to Dolmabahce and the food we ate in Ortakoy !
We know we did not have much time, we wished we could have spend more time - and for sure more money ! - also at the Grand Bazaar, were the sealers wanted to sell us a lot of goods for sure ! Well, never mind, a great remembrance and a wish to come back if we have another opportunity. Receive our congratulations, together with our wish to you to keep on doing a nice job in the Internet - that Turkey should keep on going well, that the negotiations with the European Union do not be stooped, that the Turkish Stock exchange recuperates itself soon after the last moves announce by the government.
Best regards, Manuel and Manola.
*Manuel and Manola are from Spain

Turkish Black Tea